At Templeton Windows, we have the best customers. Thank you for your loyalty and trust in us! We truly appreciate your business.
Testimonials
"Thanks to Dave for his guidance and honesty when quoting on all new windows in our house, Kyle and Kevin were professional and friendly and did an outstanding job installing. I would highly recommend this company. Thank you for the great work and being on time with your delivery date. You guys are the absolute best. :) " – Pam
"Have used Templeton on large commercial job where they provided excellent professional service. Have walked in for quick replacement glass work and they have always been quick and efficient. They are my go-to window and door supplier for my clients." – Debi
"Highly recommend. They immediately answered and assessed an emergency situation, and it was resolved quickly, professionally, and with great attention to detail." – Becky
"Excellent job! Great service, easy to deal with always available to answer questions and assist in choosing the right product. The company replaced all my exterior doors and some windows and I plan to do more. I shopped around price was right and custom orders were quick compared to competition. From service to installers positive experience with job done right." – Robert
"We have dealt with Templeton Windows for many years and seemed the obvious go-to for our new front entrance door. We are very pleased with the workmanship on the custom glass-insert door and installation. Timely, thoughtful, courteous and professional. Follow-up has likewise been prompt in responding to our questions. Excellent work! Thank you for the major upgrade to our home." – David
"Had windows installed at another time but this time only needed advice. The staff was helpful and went out of there way to help me solve my problem.Makes u want to go back." – Jim
Awards
The Mirror Readers' Choice 2018
Winner of Best Window and Door Place in the Area!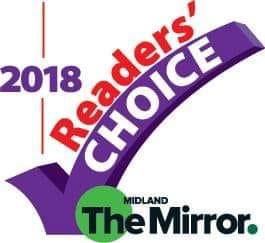 The Mirror Readers' Choice 2017
Winner of Best Window and Door Place in the Area!